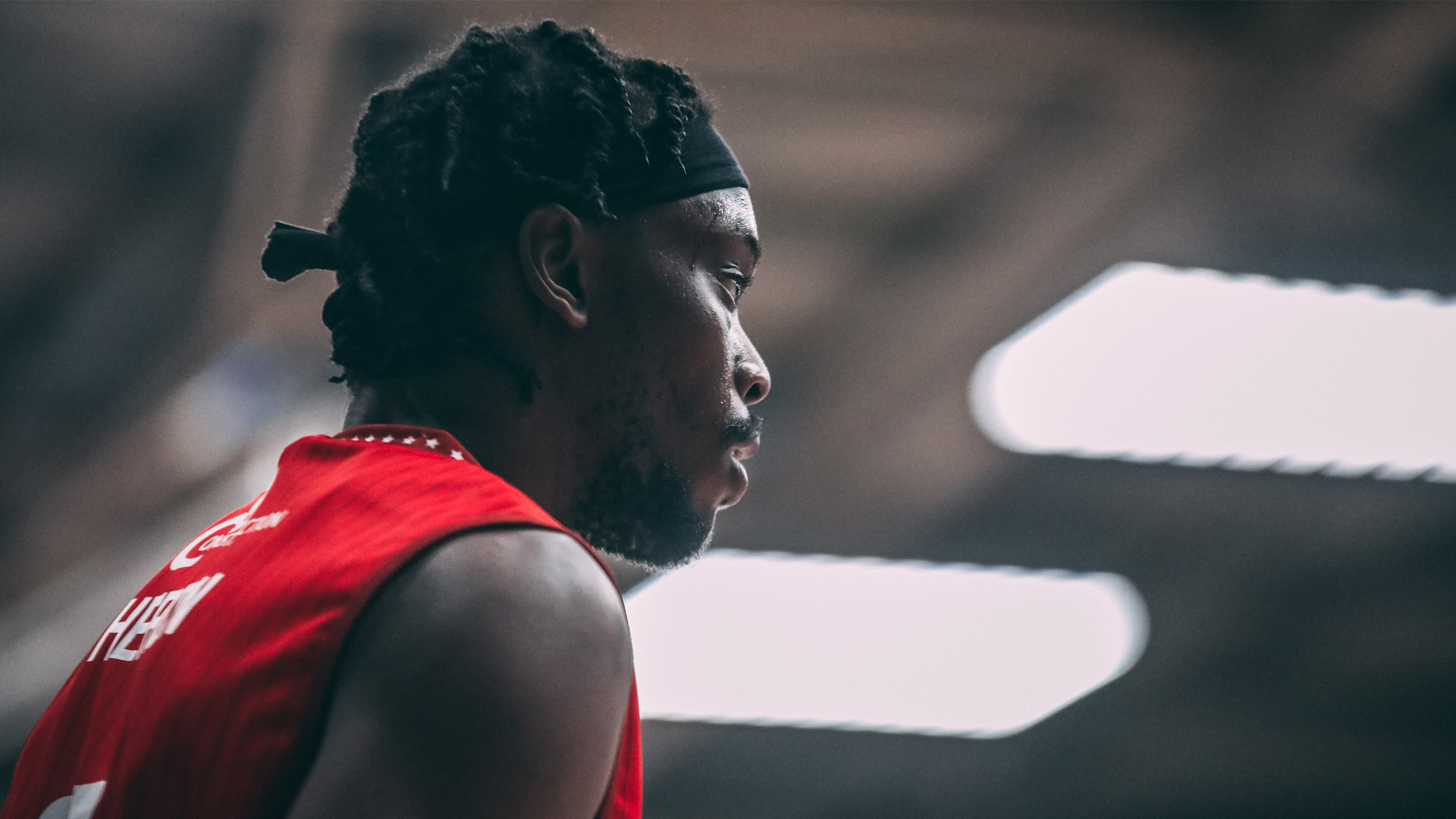 PLACE OF BIRTH:
Connecticut, USA
PREVIOUS CLUB:
St. John's
Mustapha Heron joins the Riders for his first professional season, coming out of St John's College. The 6'5" wing is a high-IQ defender, who adds versatile scoring to the Riders offence.
Heron gained basketball notoriety at the age of 14, guarding NBA superstar Chris Paul one-on-one in front of LeBron James and Dwayne Wade at the Five-Star Skills Clinic in 2011. The video went viral, gaining over 2 million views.
He was a five-star recruit coming out of Sacred Heart high-school, after a decorated career. He was named Connecticut Boys Basketball Player of the Year in 2015 and 2016, averaging 30 points and eight rebounds in his senior year. In 2016, Heron competed in the Ballislife All-American game, winning co-MVP alongside New Orleans Pelicans point guard Lonzo Ball.
A successful high school career earned Heron a place at the prestigious Auburn College, once home to NBA Hall-of Famer Charles Barkley. He averaged 15 points and six rebounds in his freshman year, failing to score in double digits on just one occasion, and was named on the SEC All-Freshman team as a result. Heron compounded his freshman season with 16 points and five rebounds in his sophomore year, before declaring for the NBA draft. He rescinded his draft eligibility to transfer to St John's College, to be closer to his mother. Heron proceeded to lead St John's to their first NCAA tournament in four years, averaging 15 points a game and shooting 40% behind the arc but sat out most of his senior year with an ankle injury.
Offensively, Heron is an energetic wing player, who can score on all three levels. His quick first step allows him to beat his defender and generate his own offence, and he possesses great vision and intelligentence to get his teammates involved.
This intelligence translates to the defensive end, where he is vocal and crafty. He is quick to help in the right situations, playing with a team-first mindset. Heron averaged a steal a game in college, and his quickness allows him to stay in front of perimeter players to demy drives to the rim. When the shot goes up, Heron is an excellent rebounder for his size and position, with a knack for understanding where the ball will come off the rim, and strength to box out the opposition and come down with the board.
As talented as Heron is on the court, his work off the court is something that should be commended. He was named to the SEC All-Community Service team for his work in encouraging academics for athletes at his high school, and in promoting a weapons buy-back program in his hometown of Waterbury, Connecticut. This service to his community, at the age of just 19, are a representation of his maturity, and the responsibility Mustapha feels towards giving back to his local area.
As a selfless, intelligent player with a team-first mentality, Mustapha will fit seamlessly into coach Paternostro's system. His dedication to giving back to the community makes him a great teammate in the locker room, and Riders fans will enjoy Heron's BBL career take flight this season.