The joint partnership which started in March 2018 between Leicestershire Police 'LivesNotKnives' and the Leicester Riders Campaign aims to combat the ongoing issue of knife crime across Leicester and Leicestershire through basketball and other educational work. We were then awarded a PCC grant in May 2019 to continue the work against knife crime.
The Leicester Riders Foundation is currently working on providing basketball sessions, inspired by the 'Carry a Basketball Not a Blade' (CABNAB) project in London, to the local community and youth workers to educate on the dangers of carrying a knife.
Mandy Payne, Community Manager at the Leicester Riders Foundation, said: "We are really keen to support the force's #LivesNotKnives campaign and hope to work closely with Leicestershire Police on implementing our new project. We are excited to be involved in helping our community become more active and feel safe by utilising our basketball sessions to help young people overcome barriers and talk about their experiences. It is important for young people to have positive role models and many of our players and staff can relate to their issues. "
Sergeant Glen Iceton, Knife Crime Coordinator for Leicestershire Police, said: "It's fantastic news that our knife crime initiative #LivesNotKnives is being support by the Leicester Riders. Knife crime affects all our communities but particularly young people. We hope that this message from positive role models will reach a lot of young people and endorse our message of making the right choice and not pick up a knife."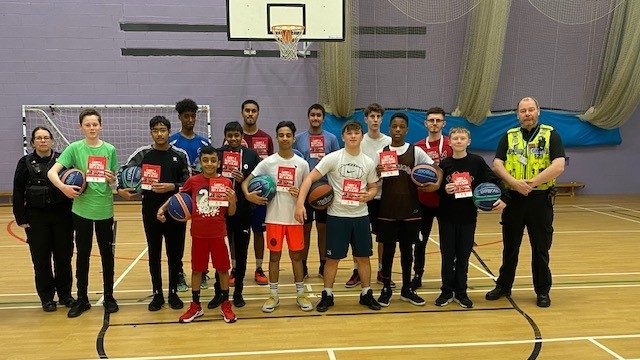 We continued to run our Free Friday night basketball sessions in key areas around Leicester City Beaumont Leys and New College and Hamilton in the new year. We are focussing on some in school delivery looking at prevention and producing a booklet with key information and worksheets to help young people make a choice. We have reached out to over 100 young adults over the last 6 months and also working with local police and networks like the E2 centre based in Beaumont Leys. On December 6th we will invite a number of young people who have regularly attended Friday Night sessions to the Leicester Riders first League game and meet some of the players and enjoy the atmosphere that live basketball can bring.
We continued to deliver the CABNAB project in schools throughout January – March 2020 and we had a great response from Beaumont Leys School where we saw participants not only attend in school activities but also attend Friday night sessions held at the school too. We worked with different year groups to raise their awareness about knife crime and the impact it can have on many peoples lives. Our coaches delivered this through basketball sessions and incorporating key facts and figures in a fun workshop activities utilising key skills of shooting & dribbling. It was unfortunate that this group didn't get down to Morningside Arena to see their idols play for Riders due to the pandemic taking hold and Lockdown preventing this trip.