Hoop HQ is a brand new facility based in the heart of loughborough designed to reinvent accessibility to basketball in the UK. It has been designed to utilise lost space and transform what was a once abandoned building in the town centre, in to a brand new facility, that provides the community access to basketball and sport.
The Leicester Riders are one of the oldest basketball teams in the country and arguably one fo the most successful British teams of all time. Once founded in 1967 at Loughborough University, the Riders return to where it all began, reinvesting in to the local area to support young people and the community getting in to basketball one step at a time!
"It is great that we are able to return back to loughborough and have the opportunity to pay homage to where it all began. The Riders is all about family and community so having this facility will help us deepen those roots is both a privilege and a fantastic opportunity"

Jack Osmond – Designer and Co Founder of Hoop HQ
The facility, started out as a Blockbusters throughout the 2000s and for many of the local town remember it as a focal point of the town centre. following the collapse of the mother company, blockbusters as the town knew it shut down in mid 2013, leaving the building vacant for many years.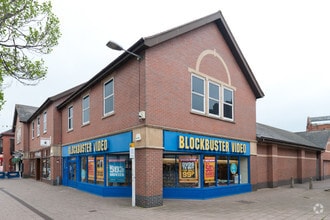 Welcome to the official page of Hoop HQ!
"its a shame really, the empty building really lets this end of town down"

– Local Resident, Late 2022